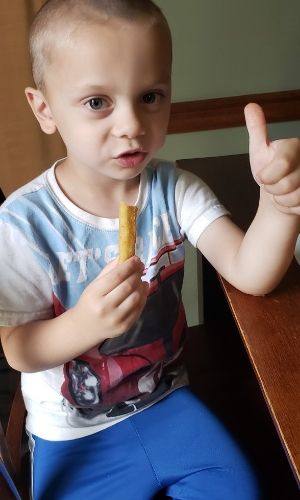 Disclosure: Please note that I was compensated for this review, but the opinions expressed within this article are my own and truthful.
I get it, dinners are hard for busy parents, and getting your kids to eat their veggies is even harder. But with the new Veggie Made frozen products from Bird's Eye, kids will not only love the taste of these fries and tots, but you will love how wholesome they are! With absolutely no artificial colors, flavors, or preservatives, Bird's Eye Veggie Made fries and tots come in 2 great flavors, cauliflower and broccoli! These awesome new products just arrived at our local Giant/Martin's food stores! Head to the freezer section by the other (less healthy, might I add) fries.
My middle baby Connor loves the cauliflower fries! He ate almost the entire package when I made them! I loved the taste and really thought that the veggies were well hidden! These Veggie Made fries and tots are great for the busy parent who wants a healthy and fast dinner sides. You can top them with pizza sauce and mozzarella cheese for "Pizza Veggie Made Fries" too! Head over to your local Martin's to grab yours today!
We surprised some families at Coyle Free Library's Pajama story time to show them these amazing new products! I heard from a little girl there that she loved fries a lot and her little brother likes tots! Good thing we brought a bunch of each! Thank you to the families who participated in the Pajama Story Time event last Thursday. We had a blast sharing these products with you!

Check out these great products and more Bird's Eye info visit https://www.birdseye.com/, or visit them on Facebook at https://www.facebook.com/BirdsEyeVegetables/